Collection
Our Wholesale Rhinestone Collection
Axiland Southeast is your source for the highest quality machine-cut rhinestones. We're proud to serve as the only distributor of Crystax rhinestones in the Southeastern United States. You can rest assured that we offer only glass rhinestones and crystal rhinestones, never flimsy, inferior plastic or acrylic look-alikes. Now you can Bling Everything with confidence at our unbeatable wholesale prices.
Shop the Online Collection Below.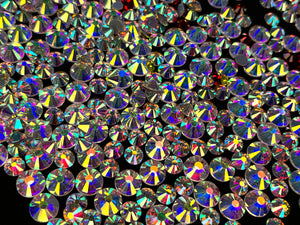 What's In Our Rhinestone Collection?
We're proud of our wide and growing selection of hot fix rhinestones, rhinestone patches, and rhinestone mesh sheets. We're confident we have the product you need to achieve your unique custom design. We can assist you in-store with hot-fix rhinestone transfers, from numbers and letters to detailed, multicolored rhinestone graphics.
All of our stones are highly durable and will hold up to repeated wear. You'll find a near-endless selection of colors and clarity levels. We can't wait to help you achieve your rhinestone custom design dreams.
Sizes We Offer
We recognize that when it comes to choosing rhinestones for fabric projects and garments, size matters. That's why we offer stones in SS6, SS10, SS12, SS16, SS20, and SS30. This makes it possible to create the most intricate designs on any one of our wholesale garments.
If You Can Dream It, We Can Bling It
You've probably seen our high-quality hot-fix rhinestones before, whether you realize it or not. These sparkling, Swarovski-like crystals are popular with major designers, celebrities, and production companies. You might have seen Crystax stones on garments worn by Beyonce, Carrie Underwood, or Regina King.
Rhinestone Project Ideas
Our rhinestones add extra sparkle to custom designs, helping your graphics stand out from the crowd. They transform ordinary clothing into bespoke, high-fashion pieces that catch the eye. We've seen our rhinestones add a touch of glamour to all sorts of garments. Popular projects range from sneakers to dance recital costumes and beauty pageant attire.
Don't be afraid to think beyond fashion and apparel, however. Our rhinestones are perfect for any fabric or fiber project you have in mind. We've helped crafters bling their quilts, home textiles, and other creative projects.
Where Can I Buy Rhinestones?
Axiland Southeast is your one-stop-shop for wholesale rhinestones, including unique products like fabrics, trims, and hoodie strings and shoelaces. Browse and shop our collection online to get a taste of what we offer.
Our brick-and-mortar location in Doraville, GA, is also open to the public. You don't need an appointment to stop by. Ask us about wholesale pricing for bulk designs and crafting needs.