Collection
Direct to Film (DTF) Print Transfers | Axiland Southeast
Are you interested in designing custom shirts? Consider a Direct to Film Transfer, or DTF. It's a simple way to get clear, full-color designs onto your garments.
What Is a Direct to Film Transfer?
DTF is a printing technique that allows for the direct transfer of digital designs onto a film medium. We can print digital designs onto special heat transfer film, eliminating the need for traditional printing plates or screens. You don't need any special training or expertise to produce gorgeous, colorfast garments featuring detailed art in multiple colors. This state-of-the-art process will save you time and money and yield perfect products every time.
Shop our collection of DTF transfers below.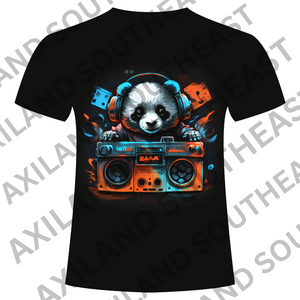 Direct to Film Transfer at Axiland Southeast
At Axiland Southeast, we offer DTF ready designs. We'll start the process when you send us your custom logo, image, or artwork. From there, we'll produce a single transfer sheet or custom gang sheet featuring your original graphic.
After that, all you need is a high-quality garment and a heat press. You'll use the press to produce a gorgeous piece of original apparel. The transfer will be long-lasting, with no cracking, fading, or peeling.
Our high-quality transfer film is suitable for various garment sizes, from children's shirts and onesies to adult hoodies. Your design will transfer seamlessly onto any heat-safe material, from 100% cotton to velvet suede.
T-shirt Printing Near Doraville, GA
If you don't have access to a heat press machine, you can still take advantage of our services. We offer a range of machines for sale at our brick-and-mortar storefront in Doraville. We also offer heat transfer in-store for wholesale quantities of 12 or more garments. Take advantage of our wholesale apparel offerings to create custom DTF apparel at a fraction of the price.
Try Our Pre-Made Designs
In addition to printing custom DTF transfer sheets, we also stock a variety of pre-made designs. These full-color sheets are pre-printed and ready to transfer onto the garment of your choice. Our selection includes popular 'first day of school' graphics, funny phrases, and adorable animal artwork. It's an easy, affordable way to customize your wardrobe, outfit your family, or create team unity.